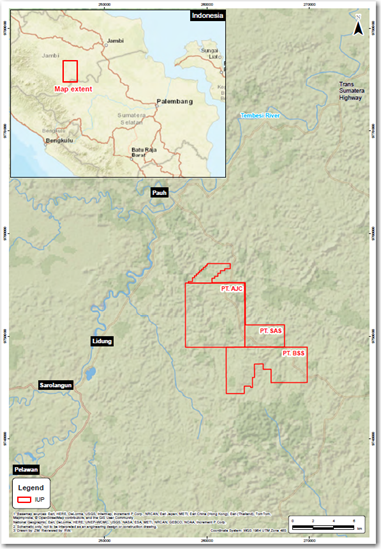 PT. Artha Nusantara Resources (ANR) currently holds three IUP's (PT. SAS, PT.AJC and PT.BSS) over the Jambi Coal Project (JCP). The JCP is located in the Pauh District, Sarolangun Regency, within the Jambi Province, approximately 17 km from Pauh, a village located on the provincial asphalt road between Jambi and Sarolangun. The area surrounding the site is dotted with small villages and the largest population is located within the bounds of the city of Sarolangun, approximately 26 km west of Pauh along a provincial asphalt road which follows the Tembesi River.
Golder was requested by ANR to independently prepare a geological model build, Coal Resources estimate and subsequent report for the JCP. The report is to comply with the guiding principles and minimum standards set out in the 'Australasian Code for Reporting of Exploration Results, Mineral Resources and Ore Reserves, 2012 Edition' (JORC Code).
Coal Resources estimates were also prepared with consideration given to the "Australian Guidelines for the Estimation and Classification of Coal" (Coal Guidelines).
Total Coal Resources (Measured Resources + Indicated Resources + Inferred Resources) estimated and reported are approximately 537.7 million tonnes (Mt) at an average combined raw ash of 6.61% (adb), calorific value of 5,361 kcal/kg (adb) and total sulphur of 0.51% (adb).